Dietary Guidelines Expert Panel Reaffirms Dairy's Role in Healthy Diets
March 9, 2015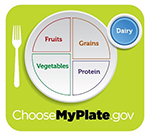 Nutrition experts advising the federal government on the 2015 Dietary Guidelines for Americans have reaffirmed low-fat and fat-free milk and dairy products as a core component of a healthy diet. In addition, they found that three of milk's nine key nutrients – calcium, vitamin D and potassium – are under-consumed by children.
The report of the 2015 Dietary Guidelines Advisory Committee – a precursor to the final Guidelines themselves – was issued February 19. NMPF President and CEO Jim Mulhern and Connie Tipton, President and CEO of the International Dairy Foods Association, issued a joint statement on the report.
"The good news for people across the country is that milk, cheese, and yogurt not only taste great, but also are nutrient-rich, affordable, readily available, and versatile, making dairy foods realistic options to help people build healthier meal plans," they said.
The 2015 edition of the Guidelines, the government's primary nutrition advice for consumers, will be issued later this year by the federal Departments of Agriculture and Health and Human Services. NMPF has advocated keeping the current recommendation of three servings of dairy a day in the Guidelines.