Congress Returns to Washington Facing Budget Deadline; Nutrition, GMO Labeling Issues Pending
September 8, 2015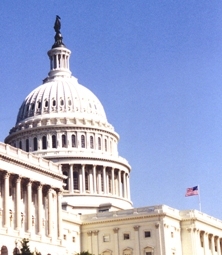 With Congress back from its August recess, its members will face a slew of hot-button issues, including reviewing the Iran nuclear deal and appropriating money to stave off another government shutdown by Sept. 30. While numerous issues are near the top of Congress' to-do list, NMPF will continue pushing on several bills that are important to milk producers. Here is what NMPF will be working to advance during the fall session:
On Sept. 30, federal authorization for several child nutrition programs, such as the School Lunch Program, runs out. NMPF wants Congress to consider the bipartisan School Milk Nutrition Act of 2015 as part of the child nutrition reauthorization process. This bill attacks declining milk consumption with a pilot program increasing the variety and availability of milk in schools.  In particular, NMPF wants USDA to allow a return of low-fat flavored milk in school meals, consistent with U.S. dietary guidelines.
Earlier this year, Agriculture Secretary Tom Vilsack signaled his acceptance of that idea. "I think if adding that option [low-fat flavored milk] would encourage more kids to drink more milk, we should do that," he said at a committee hearing in June.
Next, building on months of work with House members to pass the Safe and Accurate Food Labeling Act, NMPF will continue its focus on passing a similar version through the Senate. The House bill creates a uniform, science-based, voluntary labeling standard for foods made with GMO ingredients. The bill passed the House on July 23rd by a margin of 275-150.
If approved by the Senate and signed into law, the legislation would impose one consistent, voluntary labeling system and prevent individual states from passing their own individual labeling laws, as Vermont did last year.
"This measure gives consumers the information they want while reaffirming federal authority over food labeling and preventing the development of dozens of different state food labeling laws," said NMPF President and CEO Jim Mulhern.
As the 2016 presidential election campaign season gets underway, NMPF considers immigration reform to be of vital concern – especially considering its effects on the dairy sector. With so many farms employing immigrant workers, NMPF is concerned about the lack of progress on the issue, but is looking for opportunities to advance our legislative objectives.
NMPF also supports passage of the Safe, Flexible, and Efficient Trucking Act of 2015, which will be introduced in the House once Congress is back in session. The legislation would give states the option to allow vehicles with at least six axles to carry 91,000 pounds through the interstate highway system. NMPF backs this legislation because it would allow vehicles to carry more milk across the country. This change would also reduce fuel costs and pollution by decreasing the number of vehicles needed to transport milk.
Finally, NMPF supports the renewal of Section 179 tax credits, which allows farmers to write off capital expenses in the year they are made, rather than depreciate them over time. If a tax package is up for reauthorization, NMPF pledges to protect the deductions that have saved farmers thousands of dollars, and encourages Congress to restore the maximum amount of expensing to $500,000, as was previously set in 2014. In the same tax package, NMPF is seeking to add language to include nutrient recovery technology in the list of items eligible for the 30% renewable investment tax credit.
NMPF will continue to work with legislators on other key issues this session. Among them are the Trans-Pacific Partnership Agreement, the Waters of the U.S. Act, and a meat Country of Origin Labeling bill.