Compromise Farm Bill Creates Margin Insurance Program
February 5, 2014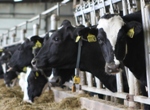 When two years of Congressional wrangling over the farm bill and the federal dairy program finally ended this week with Senate approval of the measure, no one, including milk producers, got exactly what they wanted. But the $956 billion, 950-page bill does feature the most significant rewrite of dairy policy in more than a generation, through the creation of a new margin insurance program.
"Despite its limitations, we believe the program will help address the volatility in farmers' milk prices, as well as feed costs, and provide appropriate signals to help address supply and demand," said Jim Mulhern, President and CEO of NMPF. In the end, the bill, given up for dead more than once, passed both the House and Senate with sizable margins, and is expected to be signed by President Obama on Friday.
Once it became apparent that House Speaker John Boehner would not allow the consideration of a farm bill containing a market stabilization component, NMPF worked intensively in the past three weeks to come up with an alternative system to discourage excessive milk production.
Mulhern noted that by placing a limit on how much future milk production growth can be insured, "the measure creates a disincentive to produce excess milk. The mechanism used is not what we would have preferred, but it will be better than just a stand-alone margin insurance program that lacks any means to disincentivize more milk production during periods of over-supply."
He said that an important change from the MILC program is that the new margin protection plan "doesn't discriminate against farms of differing sizes, or preferentially treat those in differing regions."
The dairy title also requires the Agriculture Department, when margins shrink dramatically, to purchase finished dairy products, stimulating demand when dairy farmers need it most. To avoid displacing commercial sales, these products would be donated to food banks or other low-income food programs.
The bill also continues three additional dairy programs through 2018: the dairy check-off program, forward pricing and the Dairy Indemnity Program. A detailed explanation of all the dairy provisions in the farm bill is posted on the NMPF website.
The overall farm bill also contained:
A major rewrite of commodity programs, with an end to direct payments, but no new caps on how much government help individual farms can receive;
An $8 billion cut in food stamps and $23 billion in savings over all, but not enough cuts to satisfy many conservative lawmakers; and,
Desperately needed disaster assistance for livestock farmers, but no relaxation of country-of-origin labeling rules or protection from restrictive state animal welfare laws.
The final dairy package represents a sea change in how the federal government buffers producers in hard economic times. It eliminates three ineffective programs—price supports, the Dairy Export Incentive Program and the Milk Income Loss Contract program—and replaces them with the voluntary, new margin insurance plan. Margin insurance was one of two pillars of the Dairy Security Act, conceived by NMPF after a more than a year of consultation with farmers in the wake of the disastrous 2008-09 recession.
The farm bill requires the margin protection program to be established no later than September 1. NMPF will spend the coming months working closely with the Agriculture Department to ensure the new program is implemented in a farmer-friendly way.