400 Groups, Including NMPF, Urge Budget Committees Not to Reopen Farm Bill
March 9, 2015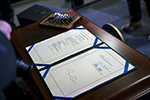 NMPF joined nearly 400 other farm and food groups last month in urging the House and Senate budget committees not to reopen the 2014 farm bill in search of additional budget cuts.
In a February 23 letter, the groups noted it took three years to enact the farm bill, which eliminated direct subsidy payments to farmers and included other significant cuts. For dairy farmers, it eliminated three long-standing programs, and created the new Margin Protection Program.
"These difficult cuts were made across the farm safety net, conservation programs and nutrition programs," the letter said. "The policy changes and reforms associated with these cuts are only now being fully implemented (and) no additional cuts to these programs should be considered, at least until these policies have time to take place and be thoroughly evaluated."
The letter comes as the budget committees are gearing up to use a budget process known as reconciliation to require additional cuts in spending already approved by Congress. Also, the Obama administration has proposed $16 billion in cuts to federal crop insurance to offset commodity program spending beyond what was anticipated in the farm bill.