2015 to See Push for Permanent Extension of Section 179 Tax Credit
January 12, 2015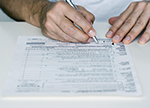 Fresh from victory in the fight for a one-year restoration of the Section 179 tax credit, NMPF and other farm organizations will focus on the importance of enacting a permanent extension in 2015.
The one-year extension was included in a bill temporarily reinstating more than 50 federal tax breaks. The bill passed last month and was sent to the White House in the closing hours of the 114th Congress.
The Section 179 tax credit allows farmers to write off up to $500,000 in machinery and equipment costs immediately, instead of spreading the write-off over several years.
But the measure that cleared Congress December 16 applies to 2014 tax returns only. Making the tax break permanent requires additional legislation, either another "tax extenders" bill or a more comprehensive general tax reform measure. Republicans in Congress have expressed an interest in passing tax reform legislation in the new legislative session that begin this week.
NMPF President and CEO Jim Mulhern thanked the House and Senate for send the temporary extension of Section 179 to the White House before leaving for the holidays. "Dairy farming requires significant investments in equipment," Mulhern said. "But farmers shouldn't have to wait until the last few weeks of the year to find out how they can write off a new tractor or milking machine. Failure to restore Section 179 permanently will add to the financial strains on farmers who already find it difficult to pass on their farms to the next generation."