USDA Quarterly Milk Production Reports to Resume in October
September 9, 2013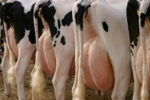 USDA's National Agricultural Statistics Service (NASS) said last month that with the start of a new fiscal year on October 1, it will resume the quarterly milk production producer surveys it suspended earlier this year due to budget cuts.
Back in April, NASS suspended its monthly milk production report because of the federal budget sequester. After NMPF protested the lack of government data, NASS agreed to continue providing a monthly production estimate, albeit produced without the use of farmer surveys to help verify milk output trends. Since April, the USDA has used data from federal milk marketing orders, dairy checkoff data, state departments of agriculture, and other administrative sources.
The producer survey program will resume with a late September mailing to dairy producers, and the release of resulting data on October 21. With the quarterly surveys, the dairy cow and milk per cow statistics will once again be available.