United States, Mexico and Canada Finalize New Trade Agreement: USMCA
October 11, 2018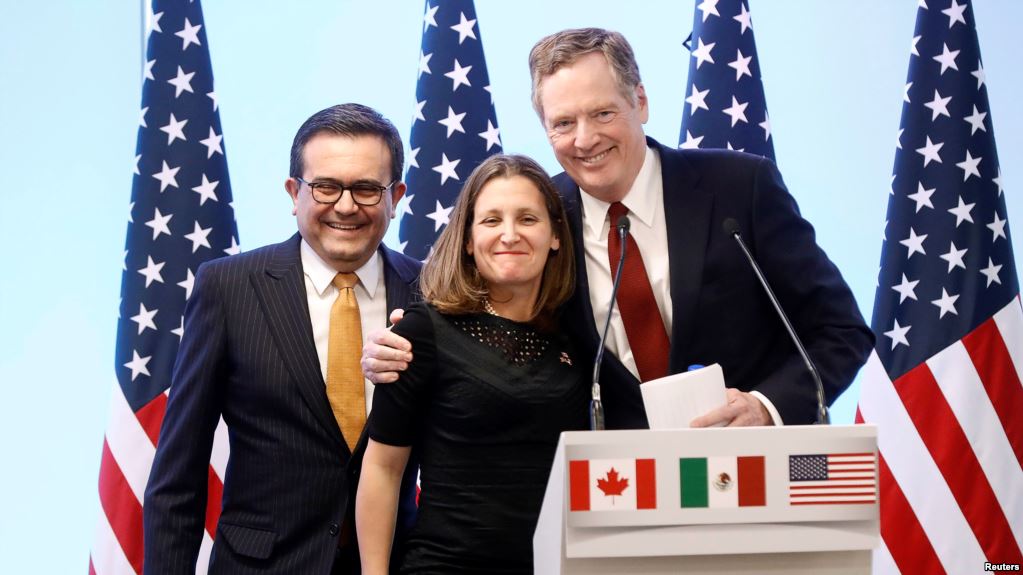 The month of October ushered in a new trade agreement: the U.S.-Mexico-Canada Agreement (USMCA), which is designed to replace the longstanding North American Free Trade Agreement (NAFTA). The new agreement will allow the U.S. dairy industry to continue developing new markets while eliminating Canada's trade distorting Class 7 policy.
Over the last several months, NMPF and the U.S. Dairy Export Council (USDEC) worked closely with the U.S. government on the three-country talks as confidential private sector trade advisors. Staff members were enmeshed in intensive consultations with U.S. trade negotiators to help hammer out a workable deal with Canada following the conclusion of U.S.-Mexico negotiations in late August. NMPF issued a joint industry release welcoming the conclusion of the treaty modernization process, and is now in the process of reviewing the details of the final deal.
While Canada's protectionist stance on dairy trade was a prominent sticking point in the negotiations, the USMCA also includes other key factors of relevance to the dairy industry. Among those is the preservation of a 24-year old trading framework base that will allow the sector to continue developing new markets.
The new agreement offers some expansion of dairy access to the Canadian market and new disciplines intended to tackle Canada's use of harmful pricing programs to dump an escalating volume of dairy proteins onto global markets. On both fronts, implementation and adherence to the agreement will be a critical factor in how those provisions play out for U.S. dairy as the agreement is implemented in the coming years.
"This agreement, when implemented, should give us additional marketing opportunities that will allow us to provide high-quality American dairy products to Canada, which means we've made incremental progress," said Jim Mulhern, president and CEO of NMPF. "We appreciate that the Trump Administration continually raised the profile of our issues at the negotiating table."
The agreement also includes valuable new commitments on food safety-related rules to strengthen their transparency and basis in sound science, as well as new provisions aimed at tackling the misuse of geographical indications (GIs) that erect barriers to the sale of U.S. cheeses relying on common food names. On this front, the deal incorporates new due process requirements for handling GI applications, and for the first time ever, includes a non-exhaustive list of products for which additional naming restrictions would not be permitted. Names on that list include important varieties widely produced in the United States, like mozzarella, cheddar and provolone.
With Mexico, our neighbor to the south and strongest trading partner, the deal preserves the agreement's duty-free dairy trade provisions. NMPF has continued to stress the need to address the U.S. steel and aluminum tariff issues that have resulted in Mexico's corresponding retaliatory tariffs on U.S. exports like cheese. This critical element must be solved to fully restore tariff-free U.S.-Mexico trade.
"To reap the full benefits of USMCA, the retaliatory tariffs on dairy products as well as U.S. steel and aluminum tariffs must be removed," said Mulhern. "Hard economic times have hit farm country and these tariffs only continue to compound the negative impact U.S. dairy producers are experiencing and will continue to experience until lifted. Our famers need reassurance that our top export markets can continue at their normal trading conditions, and the focus should turn to pursuing new trade agreements that will expand U.S. dairy exports."