Two Dairy Producers Among Finalists for Next 'Faces of Farming' Class
October 7, 2014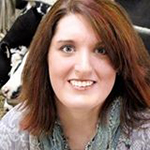 Two standout dairy producers – Carrie Mess of Wisconsin and Carla Wardin of Michigan – are among eight finalists competing in the latest Faces of Farming and Ranching competition organized by the U.S. Farmers and Ranchers Alliance. The winners will be announced next month in Kansas City.
USFRA, a coalition of more than 80 farm groups and agricultural companies, including NMPF, launched the first Faces of Farming competition several years ago to help put real faces on agriculture. Alabama dairy farmer Will Gilmer was a Faces of Farming winner in the first round.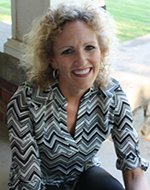 The public will have 10 days starting on October 24 to vote online for the second-round winners. The final decisions will be made by USFRA and be announced during the National Association of Farm Broadcasting annual meeting in Kansas City November 12.
In addition to being successful dairy producers, both Mess and Wardin are prominent bloggers. Mess (above), who is known online as Dairy Carrie, is co-owner with her husband of Mesa Dairy in Johnson Creek, Wisconsin. Her blog, The Adventures of Dairy Carrie, had more than a million page views last year. Earlier this year she was named "Social Media Farmer of the Year." Mess is an NMPF member though Swiss Valley Farms.
Wardin and her husband own a centennial farm in St. Johns, Michigan. Wardin (below) has written her Truth or Dairy blog for four years and is active in numerous farming organizations. She and her husband were named Michigan Milk Producers Association's Outstanding Young Dairy Cooperators in 2012, and the following year, were elected to serve as NMPF's Young Cooperator Chaircouple.
The Faces of Farming and Ranching winners share their experiences on a national stage through media interviews and public appearances.
Voting for the second-round winners will take place through the USFRA Facebook page and at www.fooddialogues.com.