Trade Policy Issues Draw Focus on Capitol Hill
April 9, 2015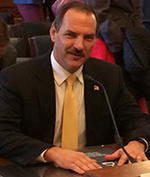 Mid-March and early April were active periods for NMPF on the trade front.
On March 18, Wisconsin dairy farmer and NMPF Board member Pete Kappelman testified on Capitol Hill about the need for favorable free trade agreements to sustain dairy export growth. The next day, NMPF joined major national and international dairy groups in stressing the importance of achieving favorable dairy market access in the Trans-Pacific Partnership.
Two weeks later, on April 2, NMPF joined the International Dairy Food Association and the U.S. Dairy Export Council in praising more than 75 House members who urged the Obama Administration to negotiate a strong market-access outcome for the U.S. dairy industry in the Pacific Rim trade agreement. The letter highlighted the need for a positive dairy result.
As head of NMPF's International Trade Committee, Kappelman represented the federation at the mid-March House Agriculture Committee hearing on the importance of trade to agriculture. He noted that since 2000, U.S. dairy exports have increased 625 percent – to a record $7.1 billion – and that exports are now "critical to the health of my farm and our dairy industry at large."
Kappelman, who is chairman of Land O'Lakes and a NMPF board member, said it is not a coincidence that this export growth occurred while the United States was implementing several free trade agreements, and that each of those was approved using Trade Promotion Authority.
Kappelman urged Congress to approve new TPA legislation in order to facilitate a favorable Trans-Pacific trade agreement. The TPA legislation is expected to be introduced in Congress next week. "Significant access to TPP's most protected dairy markets – Japan and Canada – is absolutely essential to us, and both of those countries have pointed to the importance of having TPA in place as TPP talks enter their final stage," he said.
A day after Kappelman's testimony, NMPF joined USDEC, IDFA, and national dairy organizations of Australia and New Zealand in pressing trade and agriculture officials of all three countries for "significantly increased dairy market access" with Japan and Canada in the Trans-Pacific Partnership negotiations.
In a joint letter, the organizations said TPP offered a historic opportunity to eliminate trade distortions and that access to the Japanese and Canadian markets should not be hindered by non-tariff barriers such as the European Union's aggressive stance on geographical indications.
Earlier this week, NMPF, USDEC, and IDFA commended 75 House members for advising U.S. Trade Representative Michael Froman and Agriculture Secretary Tom Vilsack that "winning an overall positive market access result for the U.S. dairy industry is critical to the success of the TPP negotiations."
The dairy groups said that dairy producers and processors agree on the importance of a balanced, positive TPP outcome for their industry and that Canadian and Japanese dairy market barriers must be addressed in any final TPP agreement.