On the Heels of Dairy Industry Appeal, West Coast Dockworkers Dispute Is Resolved
March 9, 2015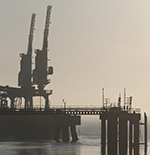 A day after the dairy industry asked President Obama to intervene in a protracted dispute between West Coast dockworkers and port operators, the White House dispatched Labor Secretary Thomas Perez to California to help the warring parties settle their differences. Seven days later, a tentative agreement was announced and the dockworkers went back to work.
The letter from NMPF, the U.S. Dairy Export Council and the International Dairy Foods Association was sent February 13. It said the nine-month-old labor dispute was crippling West Coast exports, including time-sensitive dairy products bound for Asian markets.
A day later, the White House announced it was sending Secretary Perez to California to urge both sides "to resolve their dispute quickly at the bargaining table." Six days after that, on February 21, negotiators resolved the final issue and announced a tentative agreement.
Perez hailed the agreement for "bringing to an end what has become a significant (economic) headwind (with) too many innocent people and businesses suffering."
The dispute involved 29 ports from San Diego to Seattle. There was no immediate word on how long it would take to clear the backlog of export shipments.