NMPF Says FDA Drug Residue Analysis Demonstrates Milk Supply is Safe
March 9, 2015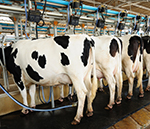 The results of a long-awaited U.S. Food and Drug Administration analysis of milk samples from nearly 2,000 dairy farms clearly demonstrate that regulations to keep drug residues out of milk are effective in protecting public health, according to NMPF.
In the analysis, made public March 5, FDA's Center for Veterinary Medicine analyzed the milk samples for 31 different drugs. More than 99 percent of samples were found to be free of drug residues.
"The report confirms that America's dairy farmers are delivering on their commitment to provide safe and wholesome milk to consumers," said NMPF President and CEO Jim Mulhern. "The findings are a positive affirmation of our milk safety, although we need continued education among farmers, veterinarians, and pharmaceutical companies, and outreach on how to prevent future trace levels of residues."
In the analysis, FDA collected milk samples from 1,912 farms. About half the farms had been cited earlier for drug residue violations in market-bound meat. The remaining farms were randomly selected. FDA was checking to see if dairy farms with drug residue violations in meat were producing milk that also contained residues.
FDA confirmed 15 positives out of the 1,912 samples tested. That was 0.7 percent of the total. There was no significant difference in the results from farms with earlier drug residue citations and those randomly selected.
The FDA said the results "are encouraging and indicate that the current system of regulatory oversight results in high rates of industry compliance." The agency said it remains confident in the overall safety of the U.S. milk supply.