NMPF Hires Texas Native with Nonprofit Experience as New Executive Assistant to the President and CEO
October 7, 2015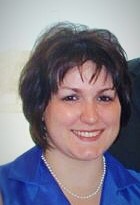 Carrie Hughes, a Texas native with experience in nonprofits, has joined the NMPF staff as executive assistant to President and CEO Jim Mulhern. She will provide administrative support by facilitating day-to-day workflow, coordinating business trips and completing special projects. She replaces Brenda Rowe, who worked under Mulhern for two years.
Hughes has a family history of farming: Her father's family previously owned a small farm in East Texas, and her aunt and uncle own a ranch in South Texas. Hughes attended Baylor University in Waco, where she majored in political science.
Since then she has received another degree in teaching, and worked for several nonprofits, including the Young Presidents Organization in Texas, and the D.C.-based Arthritis Foundation as administrative coordinator to the vice president of advocacy.
Hughes is attending George Washington University for her master's in geographical information systems and geography.