NMPF, Dairy Groups Insist Congress, White House Challenge WHO Proposal
May 9, 2016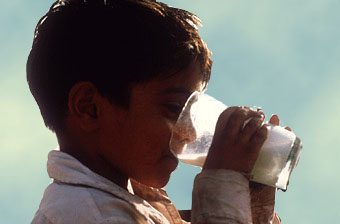 In its continued effort to counter a World Health Organization (WHO) proposal that would discourage the consumption of dairy products by young children, NMPF is calling on the White House and Congress to challenge the WHO guidance.
Earlier this year, the WHO released a proposal dictating sweeping new restrictions directly discouraging the consumption of milk, as well as other new limits on various foods including dairy products, by children up to age 3.
"It is essential that the United States remain firm in highlighting the significant flaws in this document and insisting on the need for further revisions to address those concerns before this can be held up as completed international guidance," NMPF wrote in a letter to the White House on May 9. The letter was also signed by the U.S. Dairy Export Council and the International Dairy Foods Association.  NMPF and IDFA had sent a similar letter last month to members of Congress.
Both letters explained that the WHO proposal wrongly portrays milk products as an obstacle to a healthy start in life, contradicting the science behind U.S. health policy featured in the federal dietary guidelines and the advice of the American Academy of Pediatrics. The U.S. government, it continued, should seek further review of – and changes to – the document.
"Milk is the original nutritional superfood, yet the WHO is committed to a position that would discourage the consumption of milk and milk products," said Jim Mulhern, president and CEO of NMPF.  "We appreciate the Administration's recognition that it cannot support an international guideline that undermines the critical role dairy foods play in early childhood health and development."
The WHO guidance document will be presented to the World Health Assembly (WHA) later this month, despite repeated requests from the dairy industry to alter the proposal. Two different revisions made to the original version failed to adequately address its underlying problems.