NMPF among 18 Authors of a New Guide to Water Quality Trading
July 12, 2015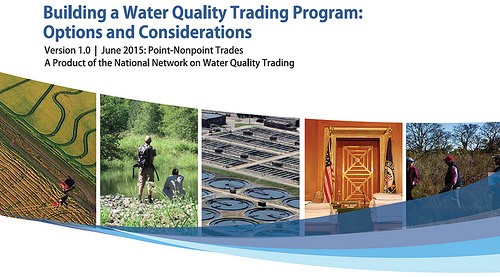 NMPF was among 18 organizations that in June unveiled an online guide to water quality trading programs designed to help farms, utilities and others reduce pollution.
Like energy trading, water quality trading rewards those who act responsibly with credits that they can keep or sell to others. For example, a farmer who reduced runoff can earn credits that can be sold to a wastewater treatment plant that is discharging into a river.
While regulations vary from sector to sector — wastewater plant regulations are different from those that apply to farms — water quality trading leads to cleaner waterways at lower cost.
But establishing a trading program can be challenging. Start-up is time-consuming, as businesses and regulators figure out how much pollution participants must cut, how pollutants interact in different parts of the watershed, and other program elements.
The new guide, Building a Water Quality Trading Program: Options and Considerations, helps participants decide if trading is right for their watershed. It lists 11 key elements in trading program design, with examples, options, and clear pros and cons.
"The guide offers options for calculating credits, determining trading eligibility and engaging stakeholders," said Ryan Bennett, NPPF's Director of Government Relations. "Clear pros and cons give stakeholders the flexibility to address the scientific, social, and ecological realities of a particular watershed. Overall, the guide is an excellent resource that can help participants design a trading program faster and with less cost."
The guide's authors, including NMPF staff, represent agricultural operations, wastewater utilities, environmental groups, regulatory agencies and trading program designers. All are members of a two-year old National Network on Water Quality Trading.