MPP Forecast: May
May 8, 2017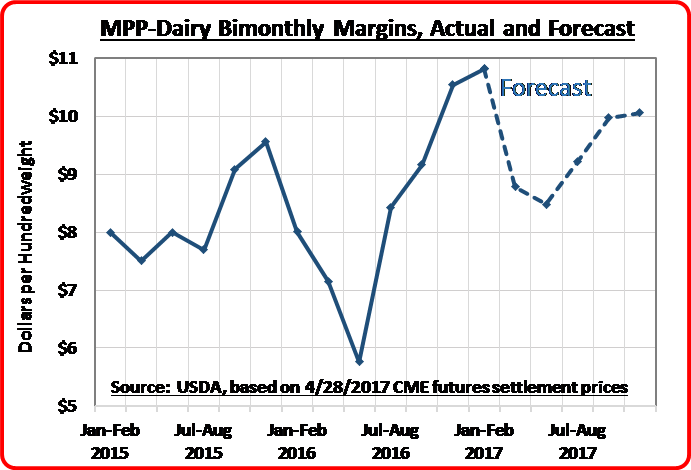 The USDA's National Agricultural Statistics Service (NASS) reported that the U.S. average all-milk price dropped $1.20 per hundredweight from February to March, to $17.30 per hundredweight. The price deterioration resulted from declines of more than one dollar per hundredweight in both the Class III and the Class IV federal order prices from February to March. The Class III price has weakened as milk production growth in the past several months has led to increased domestic cheese production and stocks. The Class IV price has weakened as skim milk powder remains oversupplied on world markets.
Feed ingredient prices for March announced by NASS and USDA's Agricultural Marketing Service showed small and partially offsetting changes from February. These translate into a monthly Margin Protection Program (MPP) feed cost of $7.95 per hundredweight, up $0.03 from February.  That slight increase, coupled with the decline in the milk price, generated a MPP margin for March of $9.35 per hundredweight, down $1.23 per hundredweight from February.
USDA's current MPP margin forecast, based on early May CME futures settlements, projects the margin will remain above $8 per hundredweight during 2017. However, USDA currently projects a slight probability that the margin will fall below the $8 coverage level during May-June, with lower probabilities that this level will trigger MPP payments during other bimonthly periods this year.
USDA's MPP margin forecasts are updated daily online. NMPF's Future for Dairy website offers a variety of educational resources to help farmers make better use of the program.