It's Time to Name the New REAL® Seal Cartoon Character
October 7, 2013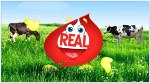 The suggestions are in, and the nominees are: Dairyus, Milkdrop, and Roscow. Now it's up to you to pick one of those three as the name for the new REAL® Seal animated cartoon character.
Votes can be cast on the REAL® Seal website through Tuesday, November 5. Fittingly, that's Election Day. Any member of the public can vote. The results will be announced November 12 at the NMPF annual meeting in Phoenix.
It's all part of NMPF's effort to revitalize the REAL® Seal and build awareness of the benefits of real milk among a new generation of consumers.
"We're excited to use the new animated REAL® Seal character to help kids, parents, and dairy fans of all ages learn about the foods made with real American dairy products," said NMPF Chief Operating Officer Jim Mulhern. "And giving people a chance to vote for the character's name is democracy in action."
NMPF used the REAL® Seal website and Facebook page to gather more than suggestions for the name over the summer. More than 100 suggestions were made.
NMPF took over management of the REAL® Seal last year. It is using social media and other means to inform consumers about the iconic dairy symbol and the advantages of real dairy foods. The REAL® Seal not only means a product is a real dairy product, but that it is made with milk from cows on U.S. dairy farms and without imported, imitation or substitute ingredients.
NMPF has made a significant investment in promoting the REAL® Seal. Until last fall, the REAL® Seal website was targeted mostly to companies interested in using the seal on their products. Today, it is focused on consumers. A buyer's guide will soon be added to make it easier for consumers to buy real dairy products.