House Vote on TPA Likely This Month; Farmers Urged to Contact Representatives
June 4, 2015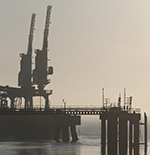 The House of Representatives is expected to vote on Trade Promotion Authority legislation later this month. It is likely the House will take up the same legislation that passed the Senate May 22 by a margin of 62-37.
The House TPA measure, after achieving bipartisan support in the Ways and Means Committee, faces stronger headwinds in the full House. As a result, NMPF is asking farmers to continue using the Dairy GREAT grassroots program to urge their representatives to support TPA. Any farmers that have not already used this important tool should do so.
NMPF views TPA as a way to help secure trade agreements that can deliver positive results for U.S. dairy farmers. "Trade promotion authority is crucial to concluding trade agreements that will open foreign markets to more U.S. dairy products," said NMPF President and CEO Jim Mulhern. "Market access expansion for dairy is not yet where it needs to be in the Trans-Pacific Partnership negotiations, but having TPA in place is essential to increase pressure on Japan and Canada to extend their best offers." Mulhern said TPA will increase congressional influence over trade negotiations and lead to agreements that are better for both the country and the dairy industry.
"Knowing that a trade agreement will be considered by Congress under Trade Promotion Authority paves the way to press our negotiating partners to make their best offers on the most sensitive issues," said Mulhern. "Clearly, dairy exports fall into that category, and the U.S. needs all the tools it can muster to get the best possible deal."