DAIRY PRIDE Act Supporters Keep Grassroots Pressure on Congress
June 6, 2017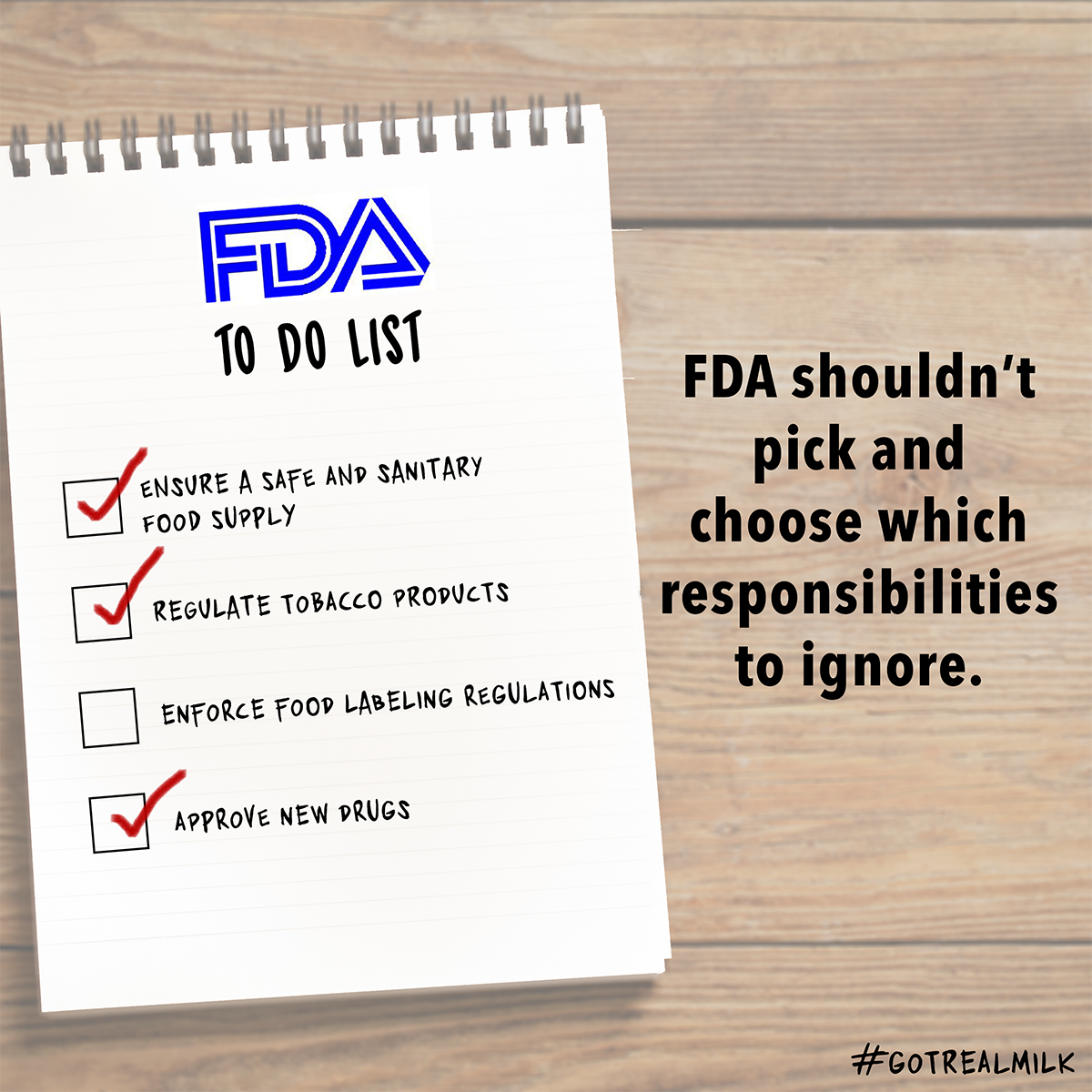 Grassroots efforts to urge Congress to pass the DAIRY PRIDE Act (DPA) continued during May, with over 600 letters of support sent to lawmakers through NMPF's Legislative Action Center – a 50-percent increase within the last month. This surge in outreach from dairy farmers was driven by a new Facebook advertising campaign (featuring images such as the one at left) asking NMPF's online community to express their support for proper dairy product labeling.
In addition, Florida dairy producer Ben Butler of Southeast Milk, Inc., submitted an opinion article to a major southern newspaper. In his op-ed for the Orlando Sentinel, Butler insisted on enforcing the country's food-labeling laws to better protect milk from imposters.
"People are slowly returning to real, natural food," he said. "Perhaps the best part about cow's milk is that it's been real and natural all along."
NMPF continues to publish legislative action alerts, news articles, infographics and other materials that advocate support for DPA. NMPF strongly encourages cooperatives to share these materials with staff, producer-members and on social media to garner additional congressional support for the DPA measure.
The bipartisan DAIRY PRIDE Act would require the U.S. Food and Drug Administration (FDA) to enforce the long-standing regulation that milk must come from an animal source, thus prohibiting plant-based "milks" from using dairy terminology on their labels. NMPF has continued to build support for the House and Senate companion bills since their introduction in late January, including working with farmers to publish several op-ed pieces in major regional newspapers.
To date, congressional support includes Angus King (I-ME), Tammy Baldwin (D-WI), Debbie Stabenow (D-MI), Jim Risch (R-ID) and Mike Crapo (R-ID) in the Senate; and Reps. Peter Welch (D-VT), Mike Simpson (R-ID), Sean Duffy (R-WI), Joe Courtney (D-CT), David Valadao (R-CA), Susan DelBene (D-WA), Collin Peterson (D-MN), Mike Gallagher (R-WI), Glenn Grothman (R-WI), Ron Kind (D-WI), Thomas Rooney (R-FL), James Sensenbrenner (R-WI), Richard Nolan (D-MN), Elise Stefanik (R-NY) and James Comer (R-KY) in the House.