Dairy Leaders Address Farm Economy, Need for Innovation at Annual Meeting
November 13, 2018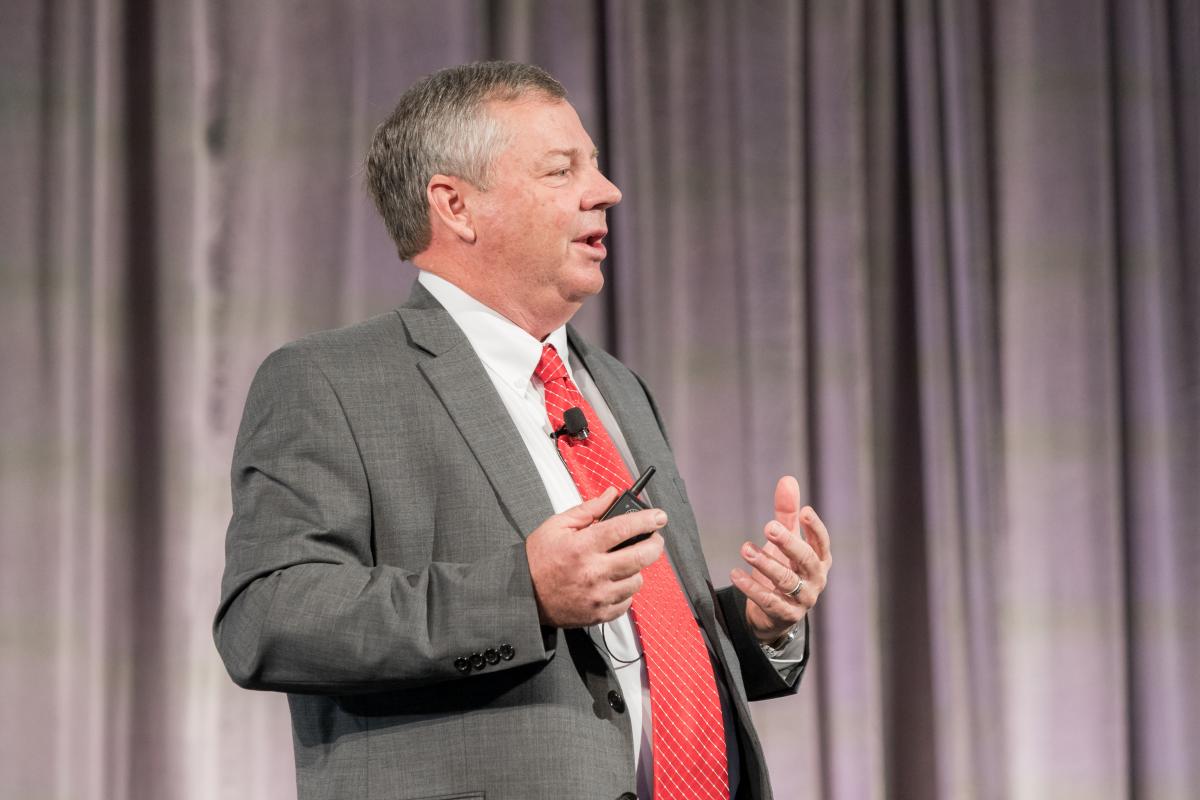 Nearly 800 dairy producers, cooperative leaders and industry stakeholders met in Phoenix late last month to attend NMPF's 102nd annual meeting, held in coordination with national dairy checkoff organization meetings. Low dairy prices, trade policy challenges and labeling of imitation dairy products were top of mind for many attendees.
Low prices that have caused hardship for producers over the past year served as the backdrop for meetings among organization members, directors and officers. Despite the economic challenges, NMPF Chairman Randy Mooney offered hope in his remarks before the NMPF Town Hall meeting. From NMPF's efforts of the past year, including improvements to the Margin Protection Program and a new trade agreement maintaining duty-free access to Mexico and disciplining problematic Canadian dairy policies, give dairy farmers reason for optimism to meet challenges ahead, Mooney said.
"We always have problems to address and I'm always mindful we are all in a different financial place," Mooney said. Still, "I choose to look at the facts. American dairy farmers produce the most nutritious product known to man. We have a growing domestic market and a growing global market, we're increasing product innovation."
"I believe in the fact that we have the best dairy farmers in the world right here in the United States."
To help address the milk price squeeze, the NMPF Board of Directors passed a resolution at the meeting to ask President Donald Trump to recognize the significant economic losses milk producers are suffering because of the administration's implementation of Section 232 and 301 tariffs, which have resulted in retaliatory tariffs against U.S. dairy exports, particularly in Mexico and China.
"In light of the administration's decision to establish a program to compensate farmers for the damage caused by these retaliatory tariffs, we call on the president to direct the U.S. Department of Agriculture (USDA) to aid dairy producers at a level that reflects the damage they have caused," milk producers resolved.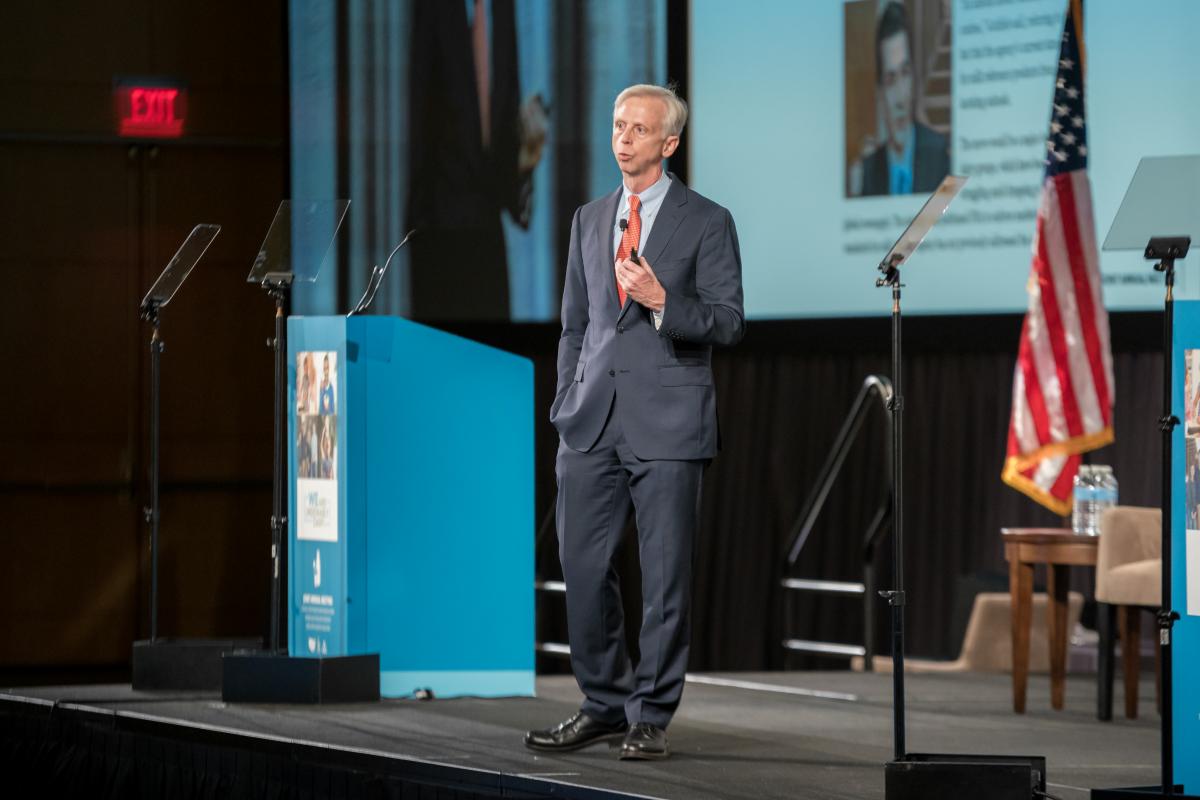 NMPF staff also addressed questions and concerns on topics like regulatory affairs, trade policy and animal care during the Town Hall event. In his President's Remarks, Jim Mulhern discussed the U.S. Food and Drug Administration's (FDA) decision to open a public comment period to address the misleading labeling practices of plant-food companies that misuse dairy terms on their products.
"This is a really important issue. It started because of you," said Mulhern. "This is our last, best chance to address this issue. I implore all of you to join us in putting your effort into this issue. We can win this."
Mulhern also hosted a panel of dairy executives, including Mike Doyle, president and CEO of Foremost Farms; Beth Ford, president and CEO of Land O'Lakes, Inc.; Ed Mullins, CEO of Prairie Farms; and Ed Townley, president and CEO of Agri-Mark. American Farm Bureau Federation President Zippy Duvall also spoke at the conference about the importance of working together to tackle issues including trade, regulations and farm labor.
Duvall, Mooney and Dairy Management Inc. chair Marilyn Hershey joined together in a panel discussion to offer their perspectives on many of the challenges and opportunities facing U.S. dairy farmers.
The NMPF Board of Directors also recognized outgoing board members at the meeting, including NMPF Board Treasurer and Land O' Lakes, Inc. Chairman Pete Kappelman. Four new members joined: Kent Herman, Dairy Farmers of America (DFA); Dennis Rodenbaugh, DFA; Nic Schoenberger, Land O'Lakes, Inc.; and Mike Visser, Select Milk Producers.
This year's event, hosted with DMI's National Dairy Board and the United Dairy Industry Association, also included the ever-popular Dairy Bar, featuring treats and promotional items from companies like Domino's, Pizza Hut and McDonald's, and the annual Cheese Reception spotlighting a large array of award-winning cheeses made by NMPF member cooperatives. Young dairy leaders from the national Young Cooperator (YC) Program participated in their own programming and sold raffle tickets for NMPF's scholarship program, raising close to $13,000.
Other highlights:
This year's top cheese award went to Tillamook County Creamery Association for a smoked yellow cheddar produced in Tillamook, Oregon. Tillamook and other winners were highlighted at the Cheese Reception.
The communications team at Land O' Lakes, Inc. won the overall "Communicator of the Year" award during NMPF's annual communications competition.
The incoming 2019 YC Advisory Council selected its leadership: Paul and Nancy Pyle of the Michigan Milk Producers Association were chosen as Chaircouple, Brian and Rachel Detwiler of Maryland & Virginia Milk Producers Cooperative Association were elected as Vice Chaircouple, and Taryn Martin of Tillamook was chosen as Secretary.