Animal Care a Major Focus During Annual Meeting
November 6, 2015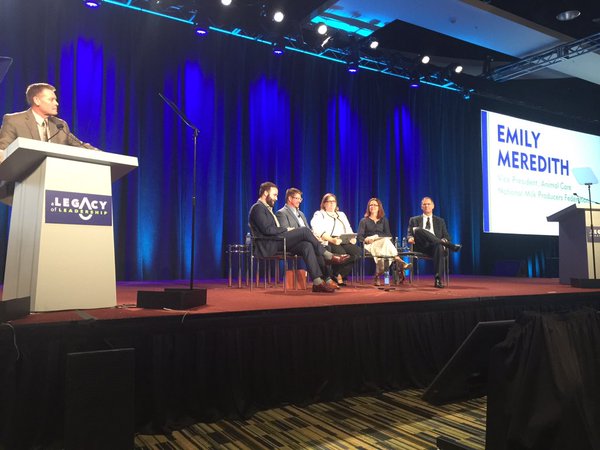 On-farm animal care was a hot-button issue throughout this year's meeting. On Oct. 27, the NMPF board took up the sometimes emotional topic of tail docking. Following substantial deliberation, members approved a resolution moving up by five years the date for farmers participating in the industry's Farmers Assuring Responsible Management animal care program to phase out routine tail docking. Farmers will now have until Jan. 1, 2017, to phase out the practice.
"On this issue, the science, the advice of our technical experts and request from our dairy customers and consumers are all aligned," said Mulhern.
Animal care was also the focus of an October 28 panel discussion featuring representatives from Walmart, Kroger, Starbucks and Chobani. The panelists commended dairy producers for their dedication to top-notch animal care, but noted that their companies are contacted constantly by consumers asking if their food is produced humanely.
"We realize we're not experts in this," said Michael Gonda of Chobani. "When it comes to something like animal welfare, we need to look at consumer expectations and have an emotional response."
Also at the annual meeting, the FARM program unveiled new communications resources, including a revamped website and stepped-up social media engagement that will broadcast farmers' stories and share their support of animal well-being.