July 16, 2019
St. Paul, Minnesota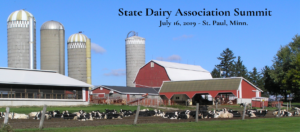 NMPF is hosting the first-ever State Dairy Association Summit, which will be held Tuesday, July 16, 2019 in St. Paul, Minnesota. This event will explore common ground on national policy issues by bringing together representatives from state dairy groups that engage in policy-related activities.
Participants will engage in a dialogue on local and state issues affecting dairy farmers across the country, as well as national policy issues.
The Summit will last a half-day, beginning with lunch and ending with an evening reception. This event is invitation only. We appreciate your interest and anticipate a productive meeting. Please call 703-243-6111 with any questions.
REGISTRATION HOTEL INFORMATION
Agenda
11:00 AM – 12:00 PM     Registration
12:00 – 1:00 PM              Luncheon (Open to Summit participants and Midwest Corp & DFW Board members)
1:00 – 5:00 PM                Summit Meeting
5:00 – 7:00 PM                Welcome Reception (Open to Summit participants and Midwest Corp & DFW Board members)