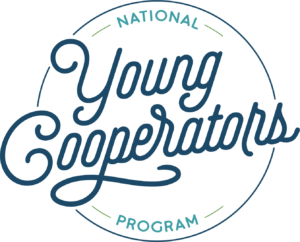 Established in 1950, the National Young Cooperators (YC) Program was created to provide up-and-coming leaders in the dairy industry with a better understanding of issues facing farmers and milk marketing cooperatives. The program's goal is simple: to educate and build leadership abilities in the next generation of dairy farmers.
Leadership development is encouraged and recognized at the local and national levels. Many current dairy industry leaders, including some current NMPF board members, have participated in NMPF's YC Program. Several of NMPF's member cooperatives sponsor their own YC programs, but representatives from each cooperative have the opportunity to participate in national YC activities. Every June, a fly-in event is held in conjunction with NMPF's June Board of Directors meeting. YCs learn about NMPF's current policy priorities, attend a lobbying how-to event, and meet with their congressional representatives on Capitol Hill. In the fall, the national YC Leadership and Development Program is held in conjunction with NMPF's Joint Annual Meeting.
---
YC Program Requirements
To be eligible for participation in the National YC Program, you must meet the following criteria:
Employment on and/or ownership of a dairy farm that is a cooperative member of one of NMPF's member cooperatives.
Approval from member cooperative
45 years of age or younger
NMPF asks that participants in the program commit to attending two in-person events throughout the year. This includes the Virtual YC Leadership and Development Program and the Dairy Policy and Legislative Forum, which will be held June 7 – 9, 2021, at the Ritz Carlton Pentagon City in Arlington, Virginia. Between the two meetings, we urge YCs to participate in live webinars, whenever possible and catch up by watching webinar recordings when scheduling conflicts occur.